[ad_1]

The Aviation Safety Network (ASN) released its 2018 accident statistics, marking a notable uptick in fatalities from 2017.
ASN recorded a total of 15 fatal commercial airliner accidents (12 passenger and three cargo flights), resulting in 556 fatalities. This is in stark contrast to 2017, which was the safest year in aviation history with 10 accidents and 44 lives lost.
The worst civilian accident of the year involved a Lion Air Boeing 737 Max that crashed into the Java Sea on Oct. 29, 2018, which caused the deaths of 189 people. Lion Air recently ended its search for the cockpit voice recorder but Indonesian officials said the search could resume next week.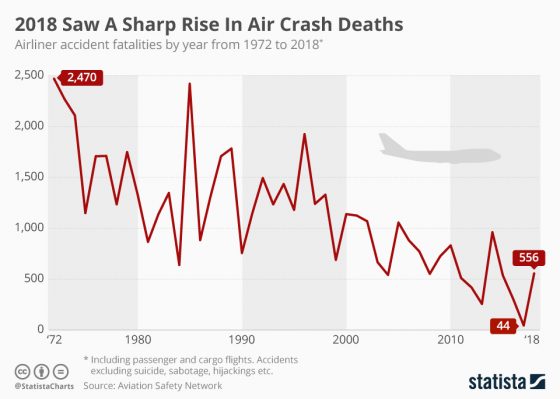 ASN cited "loss of control" accidents as the top safety concern, as most are not survivable and caused at least 10 of the worst 25 accidents of the past five years.
Given the estimated worldwide air traffic of about 37.8 million flights, the accident rate is 1 in 2,520,000 flights. Despite the sharp increase in accidents, 2018 remains the third-safest year on record regarding the number of fatal accidents.
"If the accident rate had remained the same as ten years ago, there would have been 39 fatal accidents last year," ASN CEO Harro Ranter said. "At the accident rate of the year 2000, there would have been even 64 fatal accidents. This shows the enormous progress in terms of safety in the past two decades."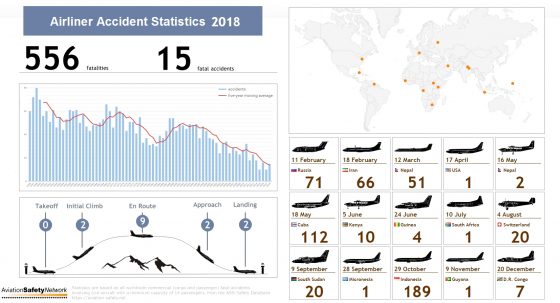 Other deadly accidents last year include the crash of another 737 in Cuba with 112 passengers and the crash of a turboprop ATR 72 in Iran's Zagros mountains that killed all 66 people onboard.
Military flights are excluded from these findings. An April 11 accident involving an Algerian Air Force IL-76 transport plane that killed 257 is not included. When including military transport aircraft, the total number fatalities would be 917 in 25 fatal accidents.
[ad_2]

Source link