[ad_1]

According to the Bureau of Labor Statistics' (BLS) Census of Fatal Occupational Injuries in 2017, a total of 5,147 fatal work injuries were recorded in the United States. And while this data marks 43 fewer casualties than in 2016, employers should note that it is still an increase of more than 300 in both 2014 and 2015.
The continued high rate was fueled by the frequency of transportation incidents (2,077) and 887 fatal falls, which marked their highest level in the 26-year history of the census.
Another key finding involved overdoses of drugs and alcohol while at work. Unintentional overdoses due to nonmedical substances while at work increased 25% from 217 in 2016 to 272 in 2017. The BLS noted that this was the fifth straight year in which unintentional workplace overdose deaths have increased by at least 25%.
The National Safety Council (NSC) released a statement in reaction to the BLS data, saying that it was "disheartened to see a small rise in unintentional, preventable worker fatalities." The NSC's statement continued:
"Once again, the data clearly show we are not doing enough to mitigate the risks of these everyday killers. At work, leadership should set the tone and engage all employees in safety, identifying hazards and measuring safety performance using leading indicators to ensure continuous improvement."
Additionally, the BLS found:
Contact with objects and equipment incidents were down 9 percent (695 in 2017 from 761 in 2016) with caught in running equipment or machinery deaths down 26 percent (76 in 2017 from 103 in 2016).
Fatal occupational injuries involving confined spaces rose 15 percent to 166 in 2017 from 144 in 2016.
Crane-related workplace fatalities fell to their lowest level ever recorded in by the census, 33 deaths in 2017.
Clearly, the fatality rate of some occupations remains alarmingly high. Below are the 10 most dangerous jobs in America for 2017, according to the BLS and the fatal work injury rate (per 100,000 workers).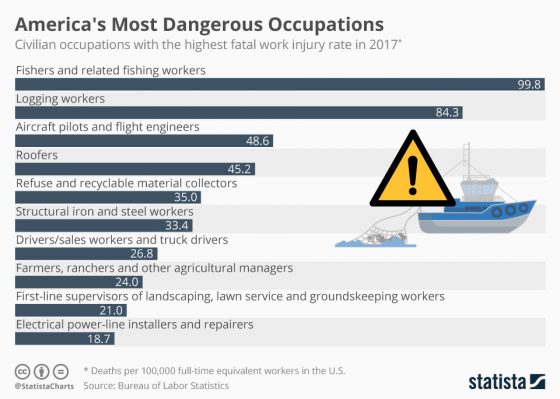 [ad_2]

Source link